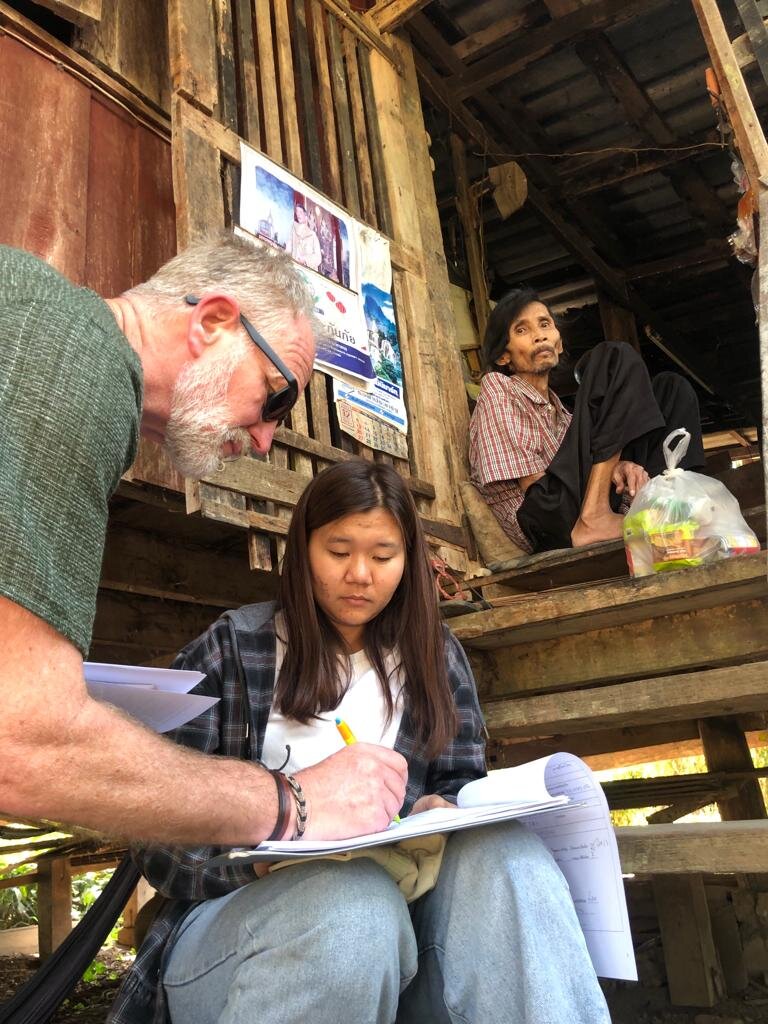 With volunteers Larry and Alex helping Soda since January, the visits have included getting a cherished, but old TV repaired, meeting new people referred from various Phrao sub-districts, and driving to get people to doctor's visits in Phrao and Chiang Mai. The Chiang Mai visits take a whole day, but Soda is helping a family get a boy with a rare disease into the government care system for financial and medical support.
Over the past few months, Lary, Alex, and Soda, our Community Care Manager, have been reviewing and streamlining daily processes and improving data collection. This puts us in a position to expand the program to additional elders and people with homebound disabilities.
We started the process of reviewing the program using the data we had accumulated over the last several years. Which data was useful in providing care, and which data do we need for basic demographics? What steps in the process slow down care and data collection? We cleaned up the historical records and started new surveys and data collection templates. Volunteer, Judith, set up the new database with a phone-accessible web form for data entry. Larry and Alex were able to give an outside perspective and help Soda think through where the team could be more efficient, leveraging volunteers and other staff members to add visits that did not require Soda. The team of volunteers and Soda have completed over fifty baseline surveys of current clients to update their data annually and focus the data collected on each visit.
We're now working in four sub-districts and Soda has a cohort of peers to review those needs and identify the best care. She is working with the heads of public health at the subdistrict level to review the people identified in need of regular visits. She can request visits from Public Health Caregivers to get physical therapy help where needed. Soda and the volunteers cover the unmet needs during regular visits to give cheer and bring supplies, like adult diapers and nutritious food to supplement the meager government pensions.
The Brother Trust has given us a grant to add an assistant for Soda this year. With your gifts to support Soda and the supplies and petrol to run the daily program, we will be able to visit and support the growing elder population in our District.
Thank you for making this possible!
Dana, Michael, Evelind, and the Warm Heart Team