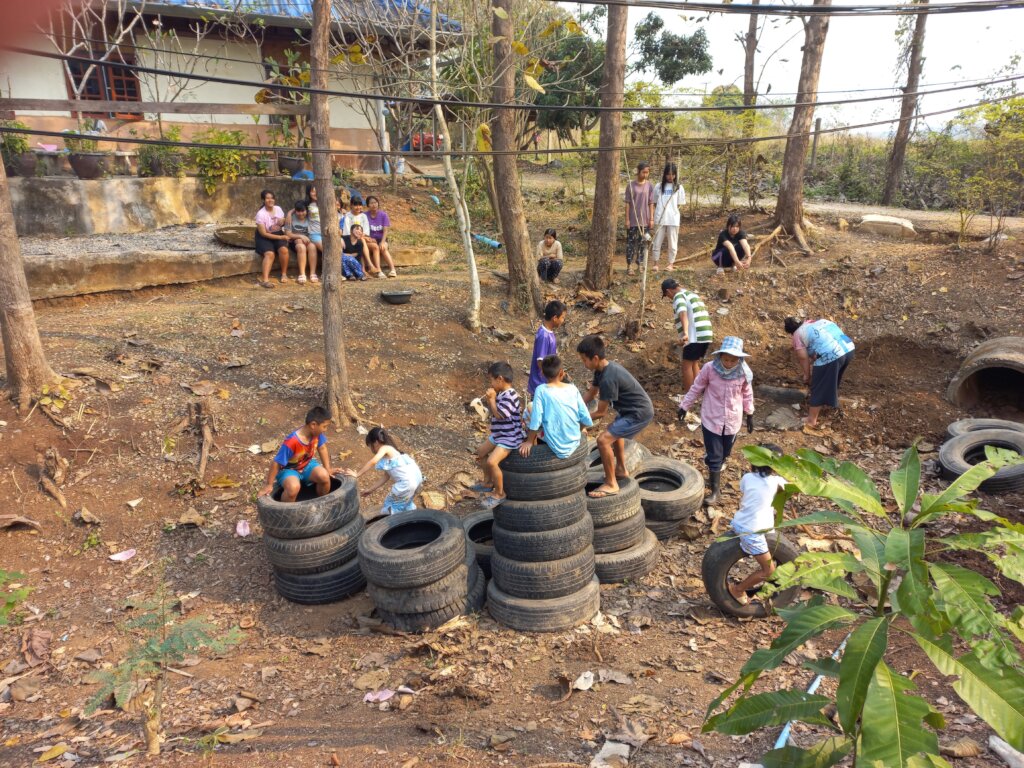 This is the hot and hazy season in Northern Thailand. The school year ends and the children head for the cool of the mountain villages if they have a safe place there. Otherwise, they relax in-between early morning and early evening work in the gardens. Afternoons, they wheedle a trip to the waterfall to cool off. This year we've had the benefit of Spencer's guidance along with Earn and our volunteer, Victor, to lead new projects.
When the rains come, they are heavy and any areas without vegetation get washed away. We have one gulley between the buildings that could wash out our road. The children and staff teamed up to dig and set used tires into the sides of the gulley. These will be planted with small trees and other plants that will help protect the hillside.
The new "One Rai" test field had been carefully watered to raise the first crop of nutrient fixers - the sun hemp. It will be trampled and cut into the field for a "no-till" soil amendment.
All the fields are being cleared and covered to wait for the rains. New fields are being set up with rows of bamboo to outline them for raised beds.
We have a test group of our longan fruit trees that have a ring of biochar set in the ground around them. This will help hold water and has turned out to be a great place to grow fresh herbs.
Taking a break from the vegetable gardens the children and staff have been planting sunflowers for the seeds and marigolds to repel mosquitoes. Lots of bright colors!
Thank you for helping us build out our capacity to protect our land and fresh produce to feed the children.
Best wishes for a wonderful summer ahead!
Dana, Michael, Evelind and the Warm Heart Children and Staff