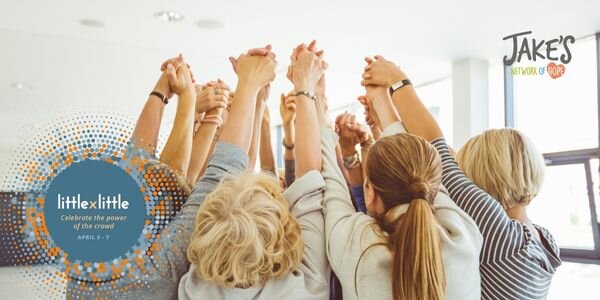 For Jake's, 2022 was filled with much to be proud of and excited about. We began the year by welcoming our new executive director, Scott Sawinski. We also expanded our list of partners from less than 90 to more than 200 by the end of the year (by the way, we're up to 250 and counting!
This means that our work has been able to reach (and support) more diverse community needs, from foster care to after school programs, family needs and domestic abuse shelters, refugee work, poverty support, health programs, etc.
In total, we surpassed ONE MILLION total products distributed in 2022 for a total of 1,053,505 products. We spent reflecting on all the work that we accomplished throughout the year, thanks to your support.
Keeping Babies Safe, Dry, and Healthy
Through our East Wisconsin Diaper Bank, National Cloth Network and Global Cloth Network, Jake's has distributed 554,821 diapers to partners. These diapers have supported 12,885 children and babies.
"Parents are their child's first and most important teacher. (From Jake's, we use) diapers, wipes and feminine hygiene products. These items are expensive, and being able to help provide these to families allows them to spend their money on other necessities." — Kelly Hinz of Parent Connection
Creating Equal Access to Period Product
Our On The Dot Program provides dignity for girls and women through equality and access to period products. So far in 2022, we have distributed 129,352 period products which have supported 5,442 girls and women.
"We are providing free period products in our bathrooms for high school students. This is very helpful to keep them in school during this time for them." — Kelly Wick, Appleton Area School district/Appleton East High school
"Our intermediate female students now have a locker designated for period products that they can access at any time they need. The products in the locker came from Jake's Network! We have already had students use the locker." — Leah Zwiers, Jefferson Elementary School, AASD
"Children feel more confident to attend and engage with peers when they are well groomed and cared for at home!" — Mackenzie Harness, Oshkosh Area School District – Ready 4 Learning
Helping Older Adults Maintain a High Quality of Life
One in three adults are dealing with some form of bladder control issues today, and two in three people will have incontinence during their lifetimes. There's a social stigma around the issue, adding to the difficulty in dealing with it. In 2022, we have distributed 336,128 ACE products to partners. These products have improved the enjoyment of life for 10,143 individuals.
"Our seniors feel that by asking for their incontinence products, they feel more secure not having to ration when they need to use them. A lot of the seniors can't afford what they need with how many they go through a day, so this is a huge help to them to call and get these sent to them with their meals we supply them with." — Amanda Wiechman, ADVOCAP's Outreach Specialist
Supporting diverse basic needs through My Neighbor and our Hope Hub
Our My Neighbor program is our most diverse basic needs program. This program was established in 2019 based on demand to provide even more basic living goods to people in need in our community, at the request of numerous partner agencies and really established its presence over the past year. The goal of this program is to provide for other needs that community partners are serving, while creating financial savings for our partners which in turn creates a revenue stream that supports our hygiene programs.
For example, a partner could browse the Hope Hub to find items for adopt-a-family type projects, including bedding, toys, kitchenware, hygiene items and more; OR, teachers can browse and stock supplies they need for classrooms or school projects; OR pregnancy agencies can stop by and pickup items that expectant parents will need, from furnishing a nursery to stuffing a diaper bag and more.
All items from My Neighbor and the Hope Hub are provided at sharing fees to partners – which on average cost about 25% of retail value. The sharing fees from this program also support the operations that help us provide all the hygiene products (diapers, period products and incontinence supplies) at no cost to these same partners. This is a major win for our community, partners and the people they serve.
By the Numbers
Total products: 1,053,505
Total lives: 29,594
Total diapers: 554,821
Total children + babies diapered: 12,885
Total period products: 129,352
Total girls + women served: 5,442
Total ACE products: 336,128
Total people served through ACE: 10,143
Total cloth diapers: 5,163
Total individuals served with cloth: 345
Total retail value saved via My Neighbor: $600,000
Links: